Online training courses for chess teachers
2020-04-15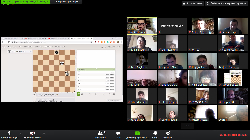 Chess Academy of Armenia in cooperation with "Chess" Scientific Research Institute has initiated online training courses for chess teachers from all regions of the country. The courses include two directions: technical support for improving distance learning and pedagogical-methodological guidelines.
Online training was attended by about 100 teachers from Yerevan and about 600 teachers from all regions of the Republic of Armenia.
The courses are based on the "Flipped Classroom" method, which is used during the training and also it is recommended for teachers.
Anna Stepanyan, Head of Yerevan Municipality General Education Department, was also present at the discussion, who thanked for the intense and purposeful discussion-training.