The Second Chess Tournament Between the Mass Media Representatives Took Place
2016-10-29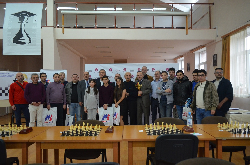 Today, on the 29th of October the second chess tournament between the Mass media representatives took place at Chess Academy of Armenia organized by Association of Foreign Correspondents. The tournament was realized under the auspices of Chess Academy of Armenia, "Vivaro" company and "Mega sport" shop.
The tournament was held in 7 rounds, according to the regulations of rapid chess: for each game the participants had 10 minutes, with 10 seconds increment for each move.
The chief arbiter of the tournament was the vice-president of Yerevan Chess Federation, International chess arbiter Norayr Kalantaryan.
The winners of the tournament were awarded by the vice-president of Armenian Chess Federation, the founder and president of Chess Academy of Armenia, winner of World Chess Olympiad, GM Smbat Lputian, the president of the Association of Foreign Correspondents, the correspondent of "Izvestia" newspaper Tigran Hovhannisyan and the representative of "Vivaro" company.
All the photos of the tournament see here.
Useful links

www.chessfed.am

www.chesshouse.am

www.chess-results.com