Armenian Women's National Chess Team Has New Member
2018-04-25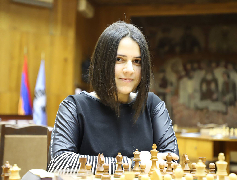 The student of Chess Academy of Armenia Anna Sargsyan (17 years old, 2323 international ratings) is included in the Armenian Women's National Chess Team by the decision of the Armenian Chess Federation.
Recently she showed quite high results: she achieved her 1st norm of Women's International Master in the European Men's Individual Championship and then the 2nd norm in the European Women's Individual Championship.
Our congratulations and all the best to Anna Sargsyan.