"Chess Academy Cup 2016" Rapid Chess Tournament - Final Stage
2017-02-12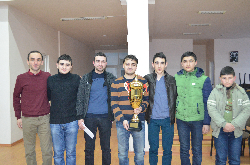 The final stage of the "Chess Academy Cup - 2016" Rapid Chess Tournament was held at the Chess Academy of Armenia on February 11, at 13:00. More than100 chess players, including Grandmasters, International Masters and Candidates of Master took part in this tournament. The total prize fund of the tournament was 200 000 AMD.
The places were distributed as follows:
1st place - IM Manuel Petrosyan
2nd place - GM Samvel Ter-Sahakyan
3rd place - GM Zaven Andriasyan
4th place - CM Shant Sargsyan
5th place - IM David Kalashyan
6th place - IM Haik Martirosyan
Special prizes:
best performance among veterans - Gevorg Tadevosyan
best performance among girls - Siranush Ghukasyan
best performance among those who have chess category - Tigran Amiryan
best performance among those who have less than 2100 national rating - Galust Tadevosyan
best performance among children up to 12 years of age - Arsen Davtyan
To see the final ranking click here.
All the photos of the tournament see here.
Useful links

www.chessfed.am

www.chesshouse.am

www.chess-results.com